Labor Market Information Dashboard
A customized data set for employers who provide occupation codes with their wage record submissions on ESS.
Welcome to your own LMI dashboard
As a thank you for submitting occupation codes with your quarterly wage filings, we created this dashboard filled with customized information that will connect you with the latest data about your industry.
While we have been collecting data on businesses and their industries in Indiana for many years, we did not start collecting occupation information until 2019. This means that we were able to tell if a person was working in the health care industry, but we did not have data on whether that person was employed as a nurse or a cook. With this new occupation information, we will be able to better analyze the staffing patterns, and also better understand the workforce and education ecosystem (for example, by exploring how many working Hoosiers are underemployed, which occupations are typically filled by history majors, and what are the wage gains by occupation within the major of study).
This dashboard contains regional and state information on:
We hope the information provided here will inspire your business decisions, and we will continue to further customize it to your needs. Enjoy exploring the dashboard and please email us with your feedback!
Use the map below to view insights from your local regional analyst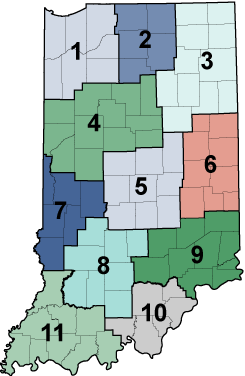 Staffing pattern and wages for your industry
Unemployment claims for your industry
Nearby training